DELAWARE COUNTY
CDO Workforce Career Center
Chenango – Delaware – Otsego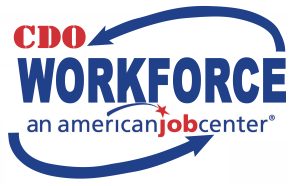 Director – Glenn Nealis
Fiscal Office Manager – Anne Aikens       
   
Office Hours: 9:00 AM – 4:30 PM
Monday – Friday (except holidays)
Delaware County Offices of Employment & Training
About Us
The CDO (Chenango-Delaware-Otsego) Workforce mission is to provide quality service in a coordinated, user-friendly
manner that meets the employment and training needs of our job seekers, workers, and businesses in the
Chenango, Delaware, and Otsego Area.
Services
Initial Assessment

We assess your skills, determine your eligibility, and develop a customized re-employment strategy for you to follow. Often, you are referred into one or more of the programs or activities listed below.

Case Management

OET assigns a counselor to assist in the development of an agreed upon strategy and to help implement an individual plan.

On-The-Job Training (OJT)

Through agreements with private sector employers, OET may arrange for specific skill training on the job. Employers may be reimbursed for a portion of a participant's training costs during this period.

Classroom Training

Specific vocational fields of study are provided to the OET customer through contracts with local colleges, BOCES, private sector training institutions and private schools. A wide range of training options are discussed with the OET customer during Case Management.

Re-Employment Services

OET assists in job search strategies and techniques, résumé preparation and interview skills training. We also provide transition workshops.

Youth Employment

OET coordinates year-around employment opportunities for youth, including a direct referral service. We also offer subsidized employment opportunities in public sectors, non-profit sectors, and private industry for individuals from 16 to 21, who qualify.
Serving Chenango, Delaware, & Otsego Counties